DizzyFest 7 – November 8, 2014
We are proud to announce the seventh semi-annual DizzyFest, November 8th, 2014 in Manassas, VA.  DizzyFest is an Eggfest put on by long time Big Green Egg® enthusiasts at the Dizzy Pig Barbecue Company.  Sticking with what folks have come to expect from an Eggfest, we will be pre-selling demo EGGs® at generously discounted rates. We'll also be offering 10% off everything we sell in the Dizzy Pig BBQ retail store (with the exception of BBQ Gurus and Thermapens).
What is an Eggfest??
An Eggfest is a gathering of Big Green Egg® fans and enthusiasts where many experienced EGG® cooks showcase their skills and talents. And its the perfect place for those that are interested in owning a Big Green Egg® to sample the amazing food coming off the EGGs® and learn all the different cooking possibilities and techniques used. It's a lot of fun, and usually feels like a big party.
Demo EGGs® are available at discounted rates, and it is a great time to purchase a gently used EGG® at an unbeatable price.

Cooks
Cooks spots are now full. If you would like to be added to our wait list, please email us at cooks@dizzypigbbq.com with your name, phone number, and the names of up to three addition cooks for your cooks team.
Cook teams can be up to four people. Because we want to make sure everyone has a goody bag waiting for them at check-in, we require all of the cooks on your team to pre-register before DizzyFest. If additional people wish to come they may purchase a taster ticket. 
Registration
Schedule of Events:
Friday, November 7th
10am
Dizzy Pig retail store open. 10% off all merchandise. (with the exception of BBQ Gurus and Thermapens)
4pm – 9pm
Meet and Greet and pre-fest party at Dizzy Pig Headquarters. Mingle with Chris Capell and other EGGers. Please note, this event is BYOB.

Saturday, November 8th

7am
First cooks arrive and set up.
8am
The lighting of the EGGs®.
10am-3pm
Cooking and eating all day.
10am
Dizzy Pig retail store open. 10% off all merchandise.
11am
Cooking throwdown with Chris Capell and special guests
1:30pm
Demo for New EGG® owners given by Chris Capell
3pm
Put out EGGs®.
4-4:45pm
Door Prizes
4:45-6pm
New EGG® pickup.
6:30pm
After-party in Manassas at Candlewood Suites. Not an official DizzyFest Event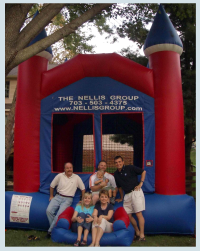 Kid-friendly event
The moon bounce is returning for DizzyFest 7!  Last June it was a hit as parents had a place for their kids to play as they roamed around DizzyFest to sample the great food and drink offerings.  We love to have the little ones take part in DizzyFest, so bring 'em on out and let them join in on the fun!  Thanks to The Nellis Group for their generous donation of the moon bounce for DizzyFest!
After-party in Manassas, Saturday at 6:30pm at Candlewood Suites.
The after-party is informal, though it has become a tradition at most Eggfests. Bring some food to cook on one of the available EGGs®, and bring your own beverages. Candlewood Suites is graciously allowing us to use their patio space in front of the building, so we need to be considerate and all alcohol is to be in plastic cups.
DizzyFest Official Hotel: Candlewood Suites
11220 Balls Ford Road, Manassas, VA 20109 (703) 530-0550
For those of you that have become familiar faces of DizzyFest, we will be holding the the after-party at a new location this year, Candlewood Suites. The hotel is closer to DizzyFest and has nice spacious suites with fully-equipped kitchens, free wifi, onsite laundry, and a fitness center.
We have reserved a block of rooms at amazing discounted prices. Please make reservations directly with the hotel and make sure to mention DizzyFest when you place your reservation.
DizzyFest Candlewood Suites Hotel Rates
Queen Studio- $75/night
Double Studio- $80/night
One Bedroom Suite- $85/night
If you prefer to stay at a different hotel than the one of the after-party, there are many hotels within a few miles.
Comfort Suites-previous DizzyFest hotel

7350 Williamson Boulevard

Manassas, VA

(703) 686-1100‎

Hampton Inn Manassas

7295 Williamson Boulevard

Manassas, VA

(703) 369-1100‎

Residence Inn by Marriott Manassas

7345 Williamson Boulevard

Manassas, VA

(703) 330-8808

Holiday Inn Hotel Manassas

10424 Balls Ford Road

Manassas, VA

(571) 292-5400

Best Western Battlefield Inn

10820 Balls Ford Road

Manassas, VA

(703) 361-8000

Holiday Inn Express & Suites Manassas

10810 Battleview Parkway

Manassas, VA

(703) 393-9797
DizzyFest Sponsors