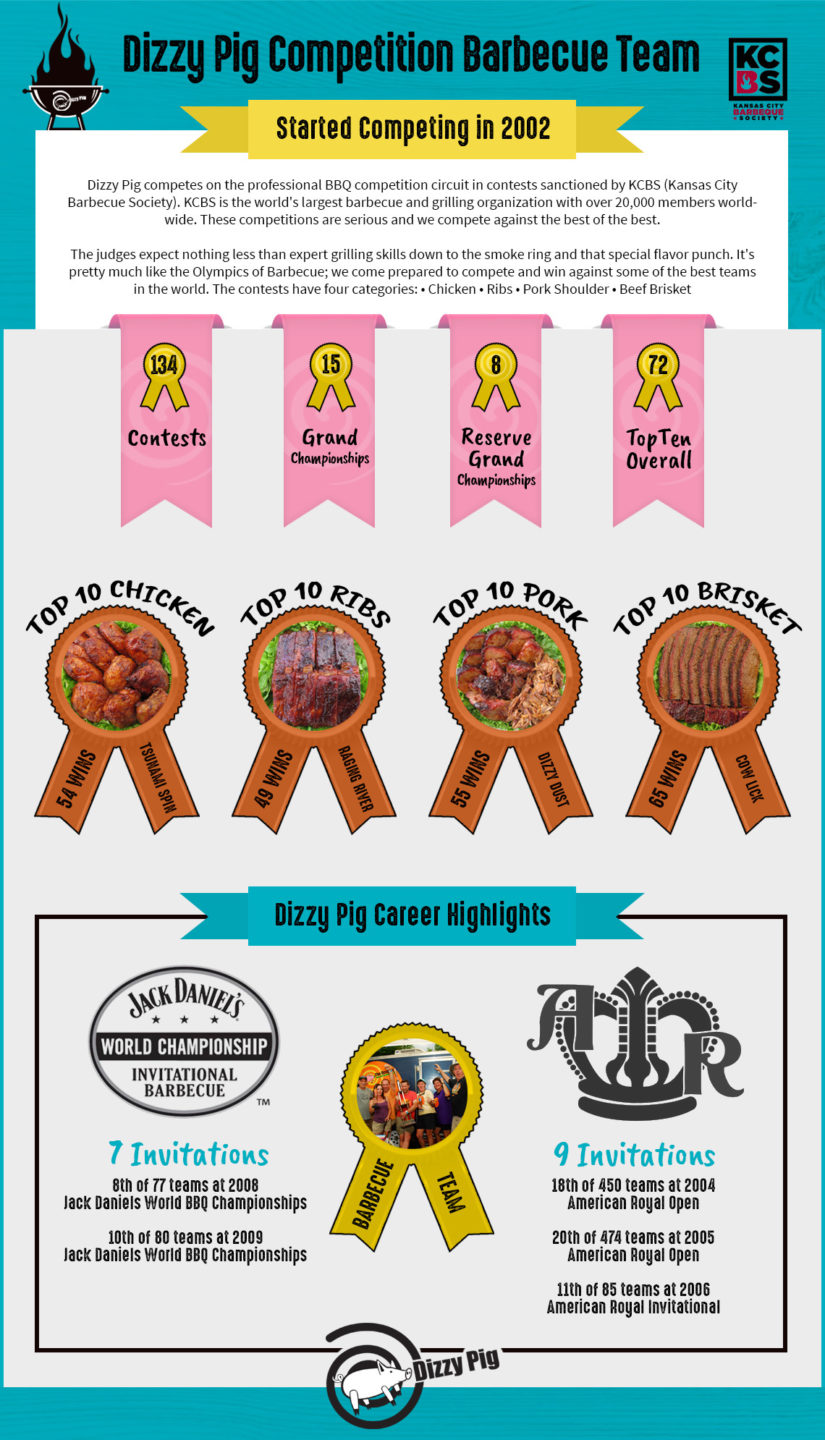 About Competition Barbecue Contests
Dizzy Pig competes on the professional circuit in competition barbecue contests sanctioned by KCBS (Kansas City Barbecue Society). KCBS is the world's largest barbecue and grilling organization with over 20,000 members worldwide. These BBQ competitions are serious and we compete against the best of the best.
At these competition barbecue contests, the judges expect nothing less than expert grilling skills, down to the smoke ring on the meat and that special flavor punch. It's pretty much like the Olympics of Competition Barbecue; we come prepared to compete and win against some of the best teams in the world. The contests have four categories:
Chicken
Ribs
Pork Shoulder
Beef Brisket
Our Track Records
The Dizzy Pig Competition Barbecue Team started competing in 2002. We have competed in 15 states, mostly in the Mid-Atlantic region and surrounding states, and have gone as far as Missouri, Tennessee, and Vermont to compete. Of the 134 contests we have competed in, our stellar results include:
15 Grand Championships
8 Reserve Grand Championships
72 Top Ten Overall Placement
Grand Championship wins earn us invites to the American Royal and the Jack Daniel's World Championship, where the Dizzy Team was honored to cook among the best bbq pitmasters in the country. Here are some highlights of our career:
7 invitations to the Jack Daniel's World Championship Invitational Barbecue. Some of our best results at the Jack were:


– 8th of 77 teams in 2008




– 10th of 80 teams in 2009

9 invitations to the American Royal. Some of our best results at the Royal were:


– 18th of 450 teams at 2004 American Royal Open




– 20th of 474 teams at 2005 American Royal Open




– 11th of 85 teams at 2006 American Royal Invitational
Exclusive Use of Dizzy Pig Seasonings
Staying true to our mission to have our seasonings judged by professionals, we used Dizzy Pig rubs exclusively at these contests – the very rubs we sell online, in our BBQ Supply store in Manassas, VA, or at a local retailer near you. Here are some stats for the four categories of competition:
You too can cook competition barbecue quality BBQ in your backyard. In fact, if you want to learn all of the secrets that has made Dizzy Pig one of the most respected and high winning teams on the KCBS circuit, you should attend our competition barbecue class. This class is the real deal, set up to mirror an actual competition barbecue contest with the same KCBS timeline and turn-in times.