About Dizzy Pig Small Batch, Craft Seasonings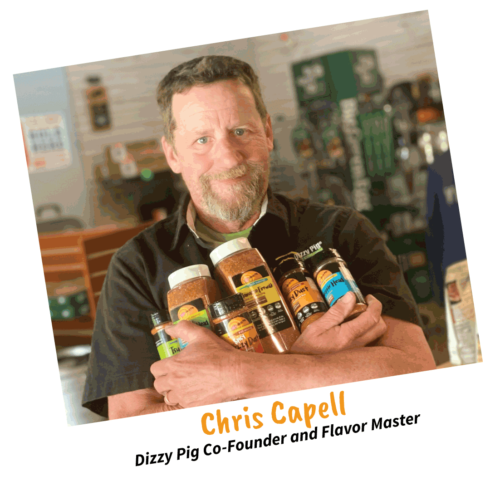 Founded in 2002, Dizzy Pig offers:
The absolute tastiest, all-natural craft seasonings.
Hand blended in small batches.
Using only the freshest, highest-quality ingredients.
Containing no gluten, nuts, or MSG.
Our Headquarters in Manassas, VA is our home.
It's where we grind/bottle spices by hand & ship straight to you.
It's the location for our Dizzy Pig BBQ Supply shop.
It's where we hold outdoor cooking classes and events.
It's where we all love to come and work each day.

Dizzy Pig is a Small-Batch Craft Seasonings Company
What Does That Even Mean?
What it means to us:
We source our spices whole and grind them fresh for each batch.
We choose to use only natural and wholesome ingredients – no anti-caking agents or preservatives. Ever.
We hand-make small batches in-house daily.
Our equipment has never touched gluten, nuts or any of the top food allergens.
Our chef palate (and owner, Chris Capell) is dedicated to creating delicious and balanced flavor. Some seasoning recipes take years to develop, and contain over 20 ingredients.
What it means to you:
You get fresh and superior flavor.
You can trust that your food will consistently taste great and be enjoyed by all.
You can feel good about what you're putting on your food and in your body.
You will want to cook more!
At Dizzy Pig, flavor is what we do best. Period.
We Don't Just Make Seasonings.
We live for cooking.
---
We teach classes, cook demos, cook and document new recipes, cook in competitions and talk to our customers daily about their experiences with our seasonings.
---
And that makes us better at making seasonings.

Have You Ever Wondered…
When and how Dizzy Pig got its start?
In 2000, two guys with a passion for BBQ met on the forum for the Big Green Egg ceramic smoker/grill – Chris Capell [aka Nature Boy] and Mike Kerslake [aka QFan].

They were on a quest to create the perfect bite of food. Store bought rubs and generic spice blends did not impress. So they created their own blends using whole spices they ground themselves. The first five seasonings were released in 2003 to rave reviews, and Dizzy Pig became a trailblazer in the small-batch craft seasoning industry.
Two decades later, Dizzy Pig has grown from a fond dream to a robust brand, with a reputation among celebrity chefs and foodies for innovation, quality, freshness, consistency, and flavor balance… and for just being down-to-earth good people!
What inspired the name "Dizzy Pig"?
The imagery of a roasting pig going around on a rotisserie created a name and mental picture so strong that it couldn't be dismissed. In reality, the meaning is not so literal. Dizzy Pig just means fun to us now!
What do we hear most from our customers?
"I love your products. They make me look like a genius."
"I cooked this great meal with Dizzy Pig that everyone loved. Now I wanna cook more."
That's why we love what we do!