Our original "Dizzy Pig Pulled Pork" recipe was posted on our website over 10 years ago, and is one of our most visited pages on our website. But we've competed in over a hundred competitions since then, so we figured it is time for an update!! The Dizzy Pig team has racked up top ten finishes in the "Pork Shoulder" category in well over half of the contests we've competed in, and we've had plenty of time to dial in our flavor profiles and technique.
This recipe is a culmination of all those awards the Dizzy Pig team has won over the years while cooking about two tons of pork butts. I always like to remind folks that there are many roads to delicious barbecue and endless possibilities for flavoring, so feel free to add your own twist. But this is how we (and many other professional BBQ teams) make the toughest judges happy with Dizzy Pig seasonings.
First time Making Pulled Pork? Check out our Dizzy Tips!

How to Select Pork Shoulder for Pulled Pork
As with flavoring, there are so many different ways to cook a pork butt.
We've tried them low and slow for 14 hours at 225°F without wrapping. We've also tried a hotter, faster method at 350°F for 4 hours, then wrap for 2 hours and rest for 2 hours. And we've tried everything in between.
We've settled in on 240°F for our cooking temp, and just enough time in the foil to complete the rendering of the fat and collagen for perfectly tender and moist results. Whatever you find works best on your particular cooker is the right method. The goal is to get good clean smoke flavor, and build up a rich brown crust before wrapping in foil to finish the cooking and rendering without losing an moisture.

Cooking
Preheat your grill/cooker/smoker, with charcoal and hickory chunks, to 240°F with an indirect setup (drip pan between meat and fire).
Wait for the smoke to turn blue, thin and make sure it smells good. Strong smoke can overwhelm the flavor of your pork and make it very dark in color. If it smells strong and burns your eyes, give the wood a little more time to dry so it burns cleanly.
Place pork butt in cooker fat cap down (assuming your heat is coming from below), and cook at 240°F for 8-9 hours, or until the exterior has a rich brown crust, and the temperature in the center of the butt is approximately 170-175°F. The smells coming off will be absolutely unbelievable…the rich brown Dizzy Pig crust, the succulent fatty pork.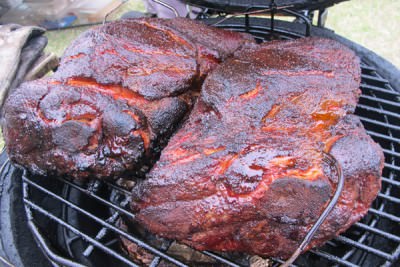 Remove from cooker and double wrap in heavy duty aluminum foil, adding 1/2 cup of pork stock. You'll want good wide pieces so you can wrap tightly so no steam escapes. For a little extra layer of flavor, grind a couple teaspoons of Crossroads seasoning finely and add when you wrap.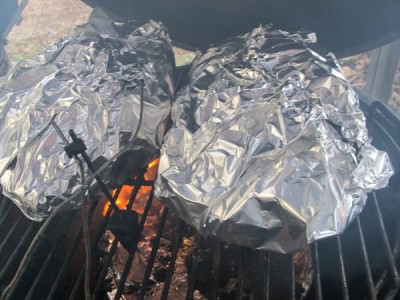 Return to cooker at 240°F. Since the moisture will not be able to evaporate from the meat, the temperature will rise quickly once wrapped. 1-2 hours should be all it takes to reach 195°F internal temperature in the center.
The meat is not necessarily done at this temp, so check for tenderness. It should wiggle a little like jello, and be very tender when poked with your temperature probe. If still not tender, return foil-wrapped butt to cooker and cook 15 more minutes and repeat tenderness check. It is not uncommon to need to cook to 200°F or 205°F internal. When fully tender, remove from your smoker, cover with towels, a blanket or place in cooler.

Resting
The pork has probably been cooking a total of 10 or 11 hours by now, but it's not quite done. I don't understand, or need to understand, the science of why, but an hour rest makes a lot of difference in the texture of the final product. And a rest of 3 hours is also totally acceptable.
You really have a range of 1-4 hours. This is great because sometimes the cooking takes longer or shorter than expected. So the rest is the perfect place to make up for the differences in cooking times. If it is done late, do a shorter rest. If it is done early, do a longer rest.

Pulling
Well, the time has come.
The Dizzy Pig pork butt has received much love, then enjoyed a good comfortable rest. It is ready to be served!!
Nothing beats meat that has been freshly pulled apart, and while time has been your friend during the entire cook, now you are working against the clock! The sooner you can get the moist chunks and strands of pork into the mouths of your family, friends or judges, the better. Plan accordingly so that you are pulling and serving at the same time, and the product will be that much better.
Barbecue smoked pork butt is served many ways, and many folks prefer to take big giant forks and shred everything into a pile. And there is nothing wrong with that!!
We take it a step further, and pull the meat by hand to get a nice mixture of chunks and pulled strands. There are many types of heat resistant gloves available, and they are very helpful when your meat is still very hot. Once you dig in with your fingers, you'll see and feel the muscles pulling apart.
My favorite method is to separate the muscles first, pulling off and discarding any leftover membranes, pockets of fat and chunks of cartilage. It will become clear which pieces get pulled, and which chunks get served whole.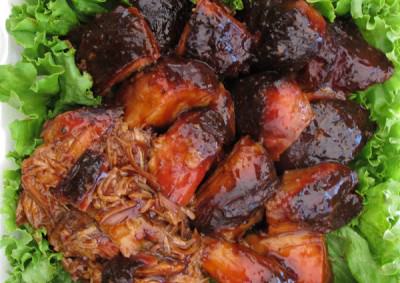 This is your chance to add any additional flavor as well. Could it use another dash of salt? Does a sauce you have compliment the meat and fit with what else you are serving? Does it need a little hit of black pepper heat or cayenne?
We hope that Dizzy Pig, combined with some of our time tested competition secrets, can elevate your pork to another level. Please let us know what you think!
---
1 7-10 lb. Boston Butt (sometimes called Pork Shoulder Blade Roast
2-6 chunks Your favorite DRY smoking wood. Hickory is a natural on Pork
Injection
2 cups Pork Stock (preferably home made with fresh pork bones)
2 Tbsp MSG
4 Tbsp raw cane sugar (Turbinado, Demarera)
2 Tbsp coarse Kosher salt
Rub
Wrap Liquid