Inspired by Joellen's delicious paella recipe, Chris came up with this recipe after inventing the Peruvian-ish seasoning, and even though Paella is a Spanish dish, he thought the tangy and fruity flavors of Peruvian-ish would compliment this dish well.
This version has chorizo, chicken, shrimp, littleneck clams, but feel free to use whatever proteins you would like. Nothing beats cooking Paella over a charcoal fire, but in a pinch this can be done on the stovetop. The great thing about cooking Paella over a live fire, and the main reason Chris loves cooking Paella on the Big Green Egg®, is that you can build up that special crunchy goodness on the bottom of the rice, called "socarrat".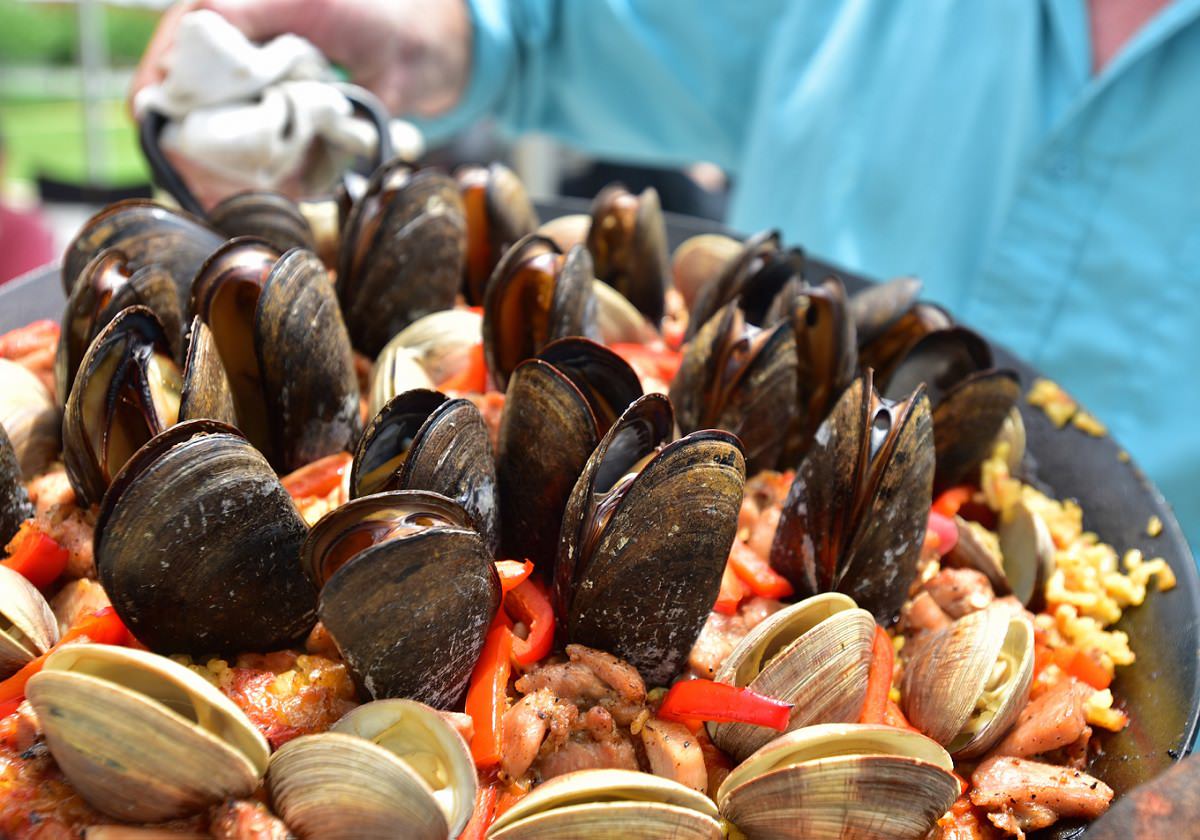 INGREDIENTS
1 cup chicken thigh meat, cut into bite sized pieces
2 Tbsp Dizzy Pig Peruvian-ish, divided (Shakin the Tree and IPA are also delicious)
30 threads of saffron, crumbled (a little less than 1/2 tsp)
6 cups chicken or seafood broth
1 link chorizo sausage, cut into small pieces (optional)
3 Tbsp olive oil (or your preference)
1 good sized onion, finely chopped
2 tomatoes, finely chopped
1 can tomato puree, crushed
4 cloves garlic, very finely chopped
3/4 cup white wine
1 3/4 cups Bomba Rice (or other short grained rice)
1 red bell pepper, cut into strips
50 littleneck Clams or mussels
15 shrimp, peeled and deveined
INSTRUCTIONS
Preparation
Season chicken pieces with 1 tbsp Dizzy Pig Peruvian-ish
In saucepan, gently heat broth with saffron until hot but not boiling
Heat oil in Paella pan over medium-hot fire
Add chicken and brown, about 5 minutes, depending on the size of chicken pieces. Remove and reserve.
Add chorizo and cook until browned. Remove and reserve.
Reduce heat to medium-low or medium heat
Make Sofrito
Add onions and tomato to pan and sauté for 10-15 minutes until it starts to darken
Add garlic and sauté about 5 more minutes
Make Paella
Add wine to pan and increase heat to medium-high (on Big Green Egg or charcoal cooker, about 400°F)
Once wine is evaporated, add rice and stir constantly for a few minutes
Spread to make an even layer of rice across the pan
Then gently add broth and 1 Tbsp Dizzy Pig Peruvian-ish
Bring mixture to boil, and cook until the rice is tender, about 20 minutes
Once rice is tender and most of the liquid is gone from the rice, arrange chicken, clams, shrimp and pepper strips on top
Cook until shrimp is done, and clams are open. And if you timed it right, the rice should be browning and popping on the bottom of the pan, creating the delicious and slightly crunchy socarrat.
Notes
If cooking on a stovetop, you may need to pre-cook the shrimp and clams. This is not necessary on a covered hot grill,
For extra flavor, grill bell pepper before cutting into strips. Char skin over a gas burner, or directly in the charcoal fire until the skin is blistered (flash, not burnt). Cover pepper to steam and the skin should come off easily.