When you team up a nice cut of grilling beef and Dizzy Pig's Cow Lick Steak Rub, you get a grilled steak that is fast, simple and fantastically satisfying. I had the opportunity to take a few pictures a while back when we had some family over for steak. Thought you might want to see our Cow Lick blend in action, so here's how I grilled them up:

The Meat
On a recommendation from my knowledgeable partner and sidekick, Chris, aka Nature Boy, I bought some thick top sirloin steaks for my first demonstration cook with the Cow Lick. While not the most expensive grilling cut by far, it certainly has a rich, beefy flavor and can be amazingly tender and impressive when properly grilled. It has become my cut of choice for showcasing to friends and family what the rub and I can do at the grill!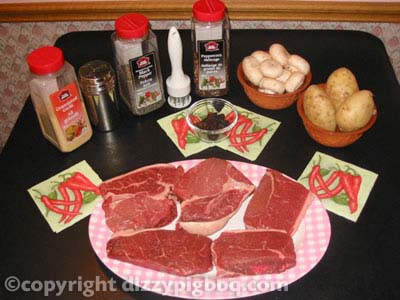 I buy the steaks in a pack at Costco/Price Club. They cut them about an inch thick, as you see. Not a mammoth steak, but a nice size for a family like ours, where many seem to prefer theirs in the medium to well-done range.
My first step in preparing the steaks is to trim any excess fat or gristle. Then I cut them into portions to suit the crowd. In this case, a few smaller pieces for youngsters who will be coming over with their parents.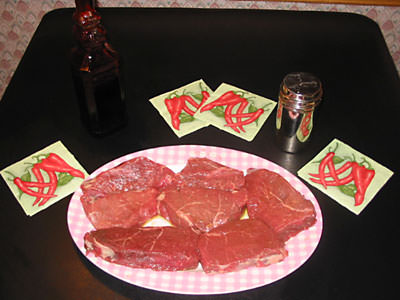 The Seasoning
Next up, a light coating of a good quality olive oil, for flavor and to help the rub adhere to the steaks.
Now we're talkin'! A generous coating of Cow Lick Steak Rub to both sides of the steak. You can smell the pepper right off and then the Southwest-inspired spices create an aroma that almost has you thinking 'steak tartare'!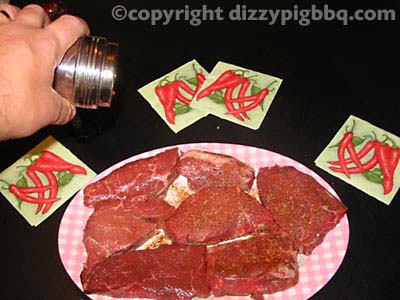 At this point you can either go to the grill, or you can wrap the steaks tightly with Saran Wrap and let 'marinate' in the oil/rub blend in the fridge for several hours or even overnight!

The Results
After grilling over a 550-600°F fire, you can see that the steaks have cooked up nicely! There is no sugar in Cow Lick Steak Rub, so there is no burnt aftertaste to the crust whatsoever. Scanning left to right, you will see a range from well-done to medium-rare (I got my eye on those two on the far right! Not sure sure which one Dizzy has his eye on!)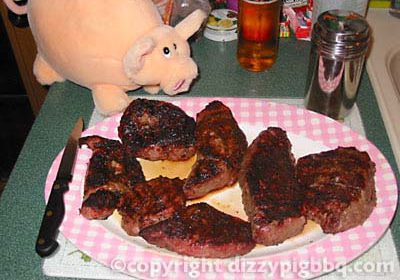 That steak on the right I was mentioning? Here is how it looked when cut in half. Note the nice solid sear on the surface and the juicy, moist center. That was one fine piece of steak, thanks in large part to the Cow Lick Steak Rub. Give it a try!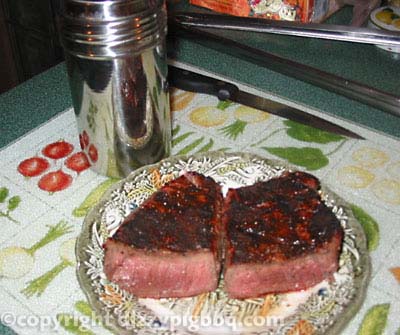 Enjoy!
Qfan