I always liked lamb. Leg of lamb is what we usually had at our house when I was growing up. Mom always served it with a jar of mint jelly to cover up the strong flavor of the lamb. I liked the flavor of the lamb, but many don't. I enjoyed the mint jelly anyway!!
Lamb racks, also called frenched lamb racks or lamb rib roast are especially good, and does not have the same strong flavor as the more active muscles on a lamb…like a leg of lamb.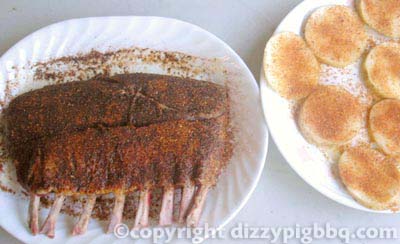 Lamb lovers love lamb racks. And non-lamb lovers are surprised at the mild sweet flavor. I call them Lamb Lolipops, and I have heard the term "Lambsicles". Yum. It is kind of like eating a new flavor of fillet mignon on a stick. Thanks to a friend Lee (aka: QSis) for introducing me to this cut, and recommending the sear/roast method.
---
1 "frenched" rack of lamb
Dizzy Pig® Red Eye Express
2 Tbsp oil
2 Tbsp soy sauce (use gluten-free soy sauce or tamari to keep recipe gluten-free)
1 Tbsp sherry
Fresh ground black pepper