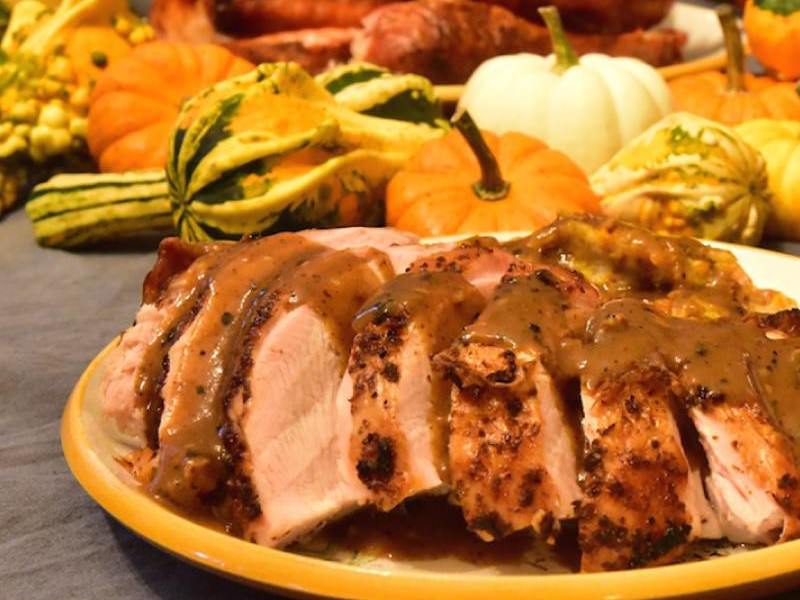 Turkey Class – Nov 2022
November 12 @ 10:00 am - 2:00 pm
Didn't think a turkey could get any better? While oven-roasting is certainly delish, you've never tried true turkey until you've cooked it over charcoal. Learn Pitmaster Chris Capell's approach to spicing up this traditional holiday bird, and watch guests' mouths fall open in awe … right before they shove more turkey in.
Related Events
Up Your Thanksgiving Game
Betcha didn't know our outdoor cooking classes in Manassas, Virginia included traditionally indoor foods as well. In fact, did you know cooking on the Big Green Egg could include that most traditional of festive birds, the turkey? Yep.
We'll teach you how to spice up then cook up a gorgeous turkey for Thanksgiving, Christmas or just because. Our Turkey Class walks you through traditional, non-traditional and wholly unique techniques for cooking a perky turkey.
Over this half-day course, we'll talk turkey, turkey and more turkey. You'll learn such critical tips as: how to get the juiciest flavor out of both dark and white meat to heat; smoke; temperature control; gravy making; seasonings and brines… and more.
You'll return to your domain as a turkey master armed with everything from traditional wisdom to creative and unique techniques. Plus a few surprises sprinkled in for perfecting this big bird and ensuring the most epic of all holiday celebrations.
On the Menu
Big Green Egg Smoke-Roasted Turkey
Stuffing/Dressing
Gravy
Chris' Spatchcocked Grilled Turkey
Side: Pineapple Head Sweet Potato Casserole
ACCESSIBILITY NOTE:
Dizzy Pig BBQ Supply has front parking with a loading and unloading area, sidewalks, and accessible restrooms. Our store and event room are fully accessible. There is a single small step leading out to the patio, where portions of some event/classes do take place. Assistance is always available from a member of our friendly and helpful staff.
If you have any questions regarding accessibility before or during an event, please contact us!
More Information
Details
Date:
November 12, 2022
Time:
10:00 am -2:00 pm
Cost:
$150
Location
Dizzy Pig BBQ Supply Store
11301 Braden Dr
Manassas,VA20109United States
Phone:
703-273-3580