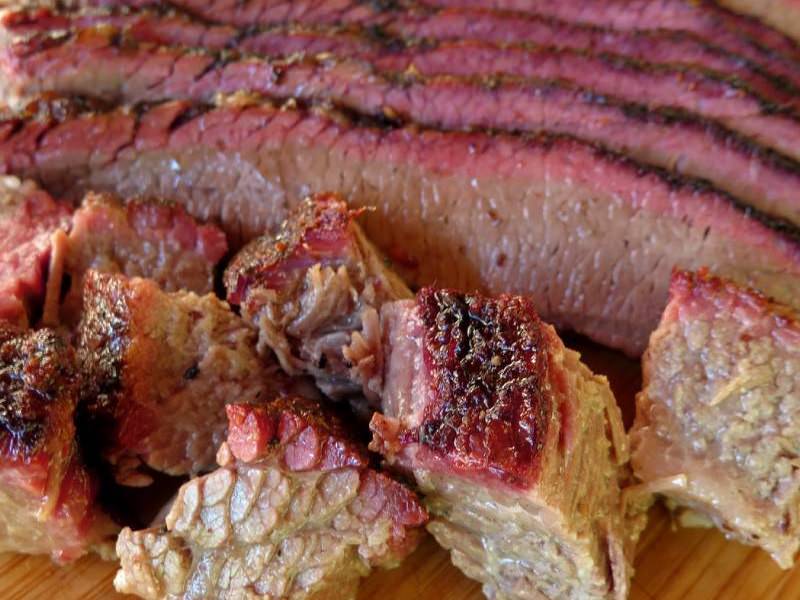 Brisket Class – Apr 2023
April 1 @ 10:00 am - 2:00 pm
A perfectly prepared brisket is one of the most heavenly experiences on Earth, leaving your taste buds delighted, your stomach full and your brain wondering, "How the heck did they make that?" Good news: This class is all about how to smoke a brisket, so soon enough, you'll know.
Related Events
Become a Brisket Boss with Competition-Class Techniques and Tricks
The shining star of the barbecue world is tender, moist and flavorful brisket. Of course, that's much easier to ooh and ahh over than it is to prepare. This challenging cut of meat requires patience, know-how and a hefty dose of competition-grade teaching … but we've got you covered in our awesome Brisket Class. In half a day's time, you'll learn how to spot a top-quality brisket, prepare it properly, cultivate the patience for cooking low and slow, and achieving brisket perfection each and every time. We'll talk through all the particulars: temperature, smoke, rubs, sauces, injections and the techniques of masters. Your brain will leave armed with the know-how needed to prepare this challenging cut of beef. Your taste buds will walk away, wagging in anticipation. Almost as much anticipation as your family and friends will feel when they learn you've lassoed the unicorn and now own the brisket game. Get ready to be popular.
On the Menu (subject to change)
Low and slow brisket
Hot and fast brisket on Gateway Drum Smoker
Side: Corn Casserole
ACCESSIBILITY NOTE:
Dizzy Pig BBQ Supply has front parking with a loading and unloading area, sidewalks, and accessible restrooms. Our store and event room are fully accessible. There is a single small step leading out to the patio, where portions of some event/classes do take place. Assistance is always available from a member of our friendly and helpful staff.
If you have any questions regarding accessibility before or during an event, please contact us!
More Information
Details
Date:
April 01, 2023
Time:
10:00 am -2:00 pm
Cost:
$150
Location
Dizzy Pig BBQ Supply Store
11301 Braden Dr
Manassas,VA20109United States
Phone:
703-273-3580